SampleTank 3 Free new sound set of the week: Loops and Synths
[h=4]Ranging from raw sawtooth waves to acoustic hip-hop loops & much more[/h]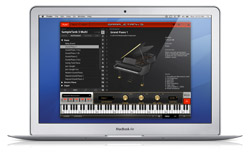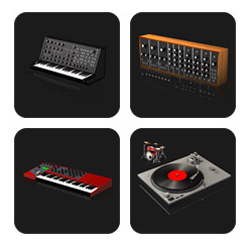 Each week, IK will release a new set of instruments that can be downloaded and added to
SampleTank 3 Free
's instrument library for a total of 22 fully functional and high quality free instruments. The first instrument included is a pitch-perfect representation of one of the best German-made concert grand pianos of all time. Last week's free sounds showcased the next generation sound workstation's comprehensive rhythmic capabilities.
This week's sound release for SampleTank 3 Free is all about electronic music. From raw sawtooth waves to acoustic hip-hop loops, we're showcasing the next generation sound workstation's impressive range of drum loops and synthesizers. You get one high-quality instrument from each of the following categories: Synth Lead, Synth Pad and Synth FX. These instruments come with MIDI patterns that you can use to experiment with SampleTank 3's powerful new MIDI player section. You also get 17 hip-hop acoustic drum loops and 63 chromatically mapped EDM loops that you can use to get in the groove immediately. With each instrument and loop you will enjoy the endless potential for fine-tuning and sound design afforded by the full version's battery of macro controls, effects processors, sample engines and other advanced features.
Synth Lead: Rawsaw Lead
A timeless sawtooth wave analog synth lead with delayed vibrato and a rich echoed reverb effect, perfect for everything from cutting-edge EDM to vintage rock and R&B tracks. It also works great as a bass in the low register. Try different FX and filters on this one for endless variations.
MIDI Patterns - 3 MIDI Patterns included.
Synth Pad: 4-Osc Analog Velo Pad
Ultra-warm filtered sawtooth wave strings with a perfectly dialed-in envelope attack. 4 oscillators gives a lush detuning to the pad that you can't get with just a simple chorus effect. Both the mod wheel and aftertouch modulate the filter for extra expression.
MIDI Patterns - 3 MIDI Patterns included.
Synth FX: Jazz Funk Orch Stabs
40 different dynamic brass, orchestra and percussion hits mapped chromatically up the keyboard for use in any musical production that needs punctuation with character and style. We've also included a brass MIDI pattern that works well with this instrument. Transpose the pattern for different timbres!
MIDI Patterns - 1 MIDI Pattern included.
Loops: Hip Hop 9 (109 bpm)
17 expertly-recorded acoustic drum loops with some serious swing and groove to use as the foundation for your Hip Hop, R&B, funk, fusion or even classic rock track! Includes subtle performance articulations that only a top pro drummer can deliver.
Loops: EDM 4 (128 bpm)
63 individual loops mapped chromatically up the keyboard to use as a "construction kit" for building the perfect high-energy modern EDM track. Loops include separate kick drum, snares, claps, percussion, synth effects, bass, pads, comping, etc. so you can choose the exact combination you want for each section of your song.

Download it today
and discover why
SampleTank 3
is considered the new industry standard.
To view the new SampleTank 3 video tutorials
click here