AmpliTube Orange released for iPhone, iPad, and iPod Touch
[h=4]Guitar and bass players can now rock out with the iconic Orange tones everywhere they go[/h]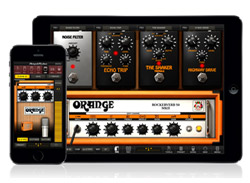 The Classic Orange Sound - Now on iOS
Officially licensed and developed in close partnership with
Orange Amplification
, the new
AmpliTube Orange for iPad
and for
iPhone/iPhone Touch
is a real time mobile Orange Amplifier and effects studio featuring digital models of 5 classic and modern Orange guitar amplifiers and one Orange bass amplifier. Each amp and cab model has been meticulously recreated in both looks and sound to deliver spot-on Orange tone any time, everywhere.

Featuring Orange Amps & Cabinets
This new app offers 5 guitar amps and one bass amp. Guitar amps included are the 40[SUP]th[/SUP]
anniversary
reissue of the single channel "pics only"
original
OR50, the ultra-versatile "dirty" channel of
the Rockerverb
50 MKII with multiple gain stages, the dual-channel 200-watt
Thunderverb
200, the simple yet powerful original Tiny Terror "lunchbox amp", and the straight ahead "British voiced" AD30. For bass players,
AmpliTube
Orange also spotlights the single channel vintage inspired AD 200 Bass MK 3 offering a huge range of bass tones from ultra clean to pure dirt and grit.
The App also features perfectly matched Orange speaker cabinets as well — the 4x12" PPC, 1x12" PPC, 2x12" PPC, 2x12" AD30 and the 1x15" OBC. The cabinets are individually selectable, so they can be mixed and matched with other amp heads for different sound possibilities.

Professional Features & Versatility
Even though Orange doesn't make stompbox effects, IK Multimedia has created 4 vintage styled Orange-inspired effects to make AmpliTube Orange a versatile stage and studio suite. After dialing in their favorite tones, players can start recording thanks to AmpliTube Orange's built-in recorder (which can be expanded via in-app purchase). AmpliTube Orange also makes a perfect practice tool, thanks to its built-in "Song" section, which allows a user to import any audio from their device iTunes library and play along.

Pricing & Availability
AmpliTube Orange is available now on the App Store[SUP]SM[/SUP] in two versions: AmpliTube Orange for iPhone/
iPod touch
and AmpliTube Orange for iPad for $14.99/€13.99 each. The 4–Track recorder and 8-Track recorder with master effects section on iPhone and iPad cost $9.99/€8.99 and $14.99/€13.99 respectively as an in-app purchase.
AmpliTube Orange is also available as a bundle for existing AmpliTube users for $14.99/€13.99 as an in-app purchase. Individual gear models are also available for in-app purchase, price ranging from $2.99/€2.69 to $6.99/€5.99.
To learn more about AmpliTube Orange for iPhone
click here
To learn more about AmpliTube Orange for iPad
click here
To visit the Orange Amplification website
click here
Also be sure to
enter the Orange Giveaway
for your chance to win a Tiny Terror hardware unit, and many other great prizes from IK!