TUAW: 4/4 Stars Award for iLoud!
[h=4]Steven Sande's review of IK's portable speaker[/h]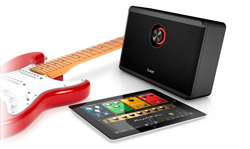 Here are quotes from Steven Sande's review of iLoud from TUAW:
"IK Multimedia
iLoud portable speaker
lives up to its name."
"Sound quality was really impressive, with fairly good high-end response -- something I've found lacking in a lot of portable speakers."
"As you'd expect, low frequencies were amazingly well-reproduced with this unit. Volume? Well, if there's a portable speaker that goes to 11 (obligatory 'This is Spinal Tap'
reference
), it's the iLoud."
"Pairing with the iOS devices was a no-brainer and Bluetooth worked well for streaming music to the unit."
"Whether you're a musician who wants a solid speaker for impromptu rehearsals or small gatherings, or just a music lover who wants a decently priced high quality portable speaker, the iLoud should fit the bill in either situation. When paired with IK Multimedia's other offerings for musicians, the iLoud rounds out a wide-ranging lineup of audio tools that are perfect for the iOS device-toting musician or music lover."

4/4 STARS AWARD
for iLoud from TUAW!
Read the
award-winning review of iLoud
from
TUAW
.
Learn more about
iLoud
from
IK Multimedia
.