Trance 2: New GrooveMaker 2 song pack is now available
[h=4]Now available via in-app purchase[/h]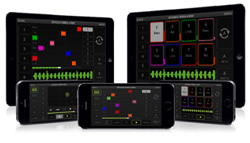 Experience the high-energy levels of Trance 2, the latest GrooveMaker 2 Song Pack release. Trance 2 is now available via in-app purchase for only $4.99/€4.49 (full pack) and $1.99/€1.79 (individual songs). This pack is ideal for creating your massive big room, progressive tunes for those peak hours of the night. Featuring an essential collection of hooks, chords, build-ups, atmospheres, pads, synths, melodies, and basses, this pack will get you sounding like some of the biggest EDM Trance stars in no time!
The pulsing power of these sounds is intense, and the anthems you create will surely whip the dancefloor into a euphoric frenzy.
There are over 3,600 loops that you can remix in GrooveMaker 2 for
iPhone
and
iPad
. They come grouped in
packs
called "songs" of over 60 loops each, organized by category such as bass drum, loop, bass, line, pads, effects and percussion. Choose from 19 song packs available via in-app purchase (please update to latest version to access all Song Packs.)
With our patented groove generation technology you can obtain millions of different groove combinations, based on 4 different A-D "Randomix" algorithms, which can produce Rhythmic, Mild, Instrumental or totally Random grooves on the 8 GrooveMaker tracks.
GrooveMaker 2 is
iRing
compatible! Wearing the iRing motion controllers you will be able to tweak GrooveMaker 2 effects or add/remove parts by waving your hands in front of the device camera. Plus move the rings clockwise or counterclockwise to trigger GrooveMaker 2 randomization.
Be sure to also check out the other song packs available for in-app purchase, which comprise a huge range of musical styles including House, DubStep, Hip Hop, Techno, Trance, Electro, D'n'B, Reggae, Reggaeton and Rock. We will release a new song pack monthly, so be sure to stay tuned in!
To learn more about GrooveMaker 2 Song Packs click
here
To purchase GrooveMaker 2 from iTunes click
here