Pre-order now and save big!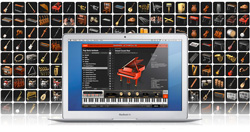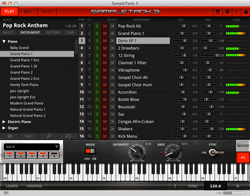 Play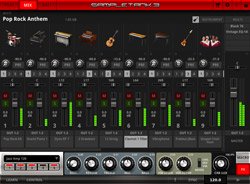 Mix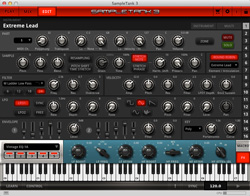 Edit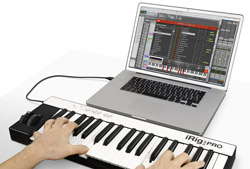 Over 10 years in the making, SampleTank 3 is finally coming out this July. With 33 GB of sounds, over 4,000 instruments, over 2,000 MIDI files and 2,500 loops, SampleTank 3 sets the new standard for software sound workstations. It's been rebuilt from the ground up: it has a completely new sound set, fully redesigned easy-to-use interface, new sounds with true-to-life "round robin" and multiple articulations, a new patterns player with MIDI patterns, new effects derived from AmpliTube and T-RackS, a new loop management feature, new filters, a new Live mode and much more. Powerful, functional and effortless, SampleTank 3 is your essential tool for studio composition and live performance.
New Sounds
At the core of SampleTank 3 there are now over 33 GB of professionally recorded and painstakingly hand-crafted samples. There are over 4,000 instruments in 22 instrument categories, which means you'll have access to every acoustic, electric and electronic sound you'll ever need. SampleTank 3 also includes over 2,500 drum, percussion and complete groove loops, and over 2,000 MIDI patterns. From Jazz to Rock, from Pop to Funky, from EDM to Hip-Hop, from Dubstep to House — no matter what genre you favor, SampleTank 3 will become your new go-to instrument for all your compositions and live gigs.
New Interface
SampleTank 3 retains the ease of use and quick workflow of its previous versions with its new 3 main environments: Play, Mix and Edit. Featuring an elegant and uncluttered design, it lets you start making music in minutes — it has the shortest learning curve of any sound workstation on the market. And when you will need to dig into its powerful new features, all the controls you need will be there, just one click away.
New Sound Engine
SampleTank 3 sports a brand-new, CPU-efficient software engine with dozens of new features. Give your sounds a live-played organic depth with "round-robin" and multiple articulations, shape your tone with 10 types of filters — including spot on emulations of some of the most iconic analog filters of all time — and tweak your samples with ease using its 3 unique sampling engines (including the formant preserving STRETCH™ and pitch-shift/time-stretch engines). Plus for quick sound editing, 8 easy-to-use pre-programmed macro functions can be pulled up at any moment. The new Live feature lets you organize your sounds by setlist and song with smart sound loading for instant recall while you are on stage performing.
New MIDI Engine
The new SampleTank 3 built-in MIDI engine – combined with the thousands of included MIDI patterns – lets you quickly build killer rhythmic grooves and tracks directly from your workstation and easily sync them with your DAW. You can now load up to 128 MIDI patterns for each of the 16 parts, with extensive control over intensity, transposition and quantization — play them all from your keyboard or effortlessly drag them to your DAW and keep working from there. Plus you can mix and match patterns and loops and sync them together seamlessly to build your ultimate groove.
New Effects
SampleTank has always been the top workstation when it comes to built-in high-quality effects integration, and SampleTank 3 strengthen its leadership position with new features and effects. The new internal multi-effects selection now contains 55 high-quality effects with 22 brand-new effects derived from the best analog-modeled algorithms and convolution technology found in AmpliTube and T-RackS plus brand new effects developed just for SampleTank 3. There is also a new 16 channel mixer-like interface with 5 insert effect slots per part, 4 stereo FX returns and a Master Channel — each with 5 effect slots. Up to 30 effects can be applied to a single SampleTank sound for a truly mind-blowing spectrum of creative sound design possibilities.
For more info on SampleTank 3, click
here
.
SampleTank 3 will be available for download in July. From now until its release, it can be purchased at these special pre-order prices*:
• Upgrade $99.99/€79.99
For all SampleTank 2 XL and Miroslav Philharmonik full users (including Total Studio and Total Workstation users)
• Crossgrade $149.99/€119.99
For all IK users of paid software, apps and hardware
• Regular version $249.99 /€199.99
Prices are valid until release. Special pre-order prices will change on release to the following introductory prices*:
• Upgrade $149.99/€119.99
• Crossgrade $199.99/€159.99
• Regular $299.99/€239.99
Boxed version will also be available after release.
Introductory prices will be valid for 2 months, the following will be the final prices*:
• Upgrade $199.99/€159.99
• Crossgrade $249.99/€199.99
• Regular $349.99/€279.99
* Prices are excluding Taxes. JamPoints cannot be applied on pre-orders. Invoicing and charge will be made at order receipt, and product will be shipped by end of July.