Professional Audio: iRig PRO is an excellent purchase
[h=4]"Small in size while perfectly equipped"[/h]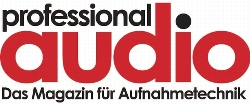 Professional Audio
's Harald Wittig has taken a very close-up look at
iRig PRO
and has put together a very detailed 5-page review.
Here are some comments from his excellent review.

"It is possible to build an extremely well equipped mini studio just with IK's [mobile] products to satisfy even the highest expectations as far as functionality and sound go."

"IK Multimedia's emulations sound spot on and cannot not be easily beaten. The Soldano ST 100 costs 30 credits - a great investment."

"The preamplifier of this small interface is indeed very low-noise and doesn't distort the sound of the microphone. Therefore it makes perfect sense to use top quality mics with iRig PRO".

"It's really fun to record with iRig PRO. Post-production is even more fun, particularly re-amping with AmpliTube."

"Small in size while perfectly equipped and also, considering the small price, it is very powerful. iRig PRO is an excellent purchase which will pay off very quickly for all IK fans who work with iOS or Macs."

- Very well equipped: Audio/MIDI interface for Line-Condenser mic signals
- Works with iPhone/iPad/Mac
- Comprehensive software bundle
- Particularly compact
Here are some quotes from the original review in German.

"Das Rig PRO ist ein ultrakompaktes und leistungsfaehiges Audio-/MIDI-Interface , das dank sehr guter Ausstattung und passablem Klang mobilen IK Multimedia-Fans sehr zu empgfehlen ist."

"Tatsächlich lässt sich allein mit IK Multimedia Produkten ein prall ausgestattetes Mini-Studio bauen, das auch hohen Ansprüchen an Funktionalität und Klang genügen soll. Handelt es sich doch keineswegs um trendige Spielereien, sondern um ernstzunehmendes Gerät für alle, die sich intensiv der Musikproduktion widmen."

"Sämtliche Signale gelangen dank der mitgelieferten Lightning- und 30-Pin-Verbindungskabel an neuste und ältere iPhones und iPads, sinnvolle Apps wie AmpliTube FREE, VocaLive FREE, SampleTank FREE sowie iGrand FREE gibt es nach Produktregistrierung zum kostenlosen Download. Damit lässt sich schon richtig viel anfangen und unterwegs kann so bereits fleißig vorproduziert werden."

"Auch dem Mac-User beschenkt IK Multimedia mit einem feinen Softwarepaktchen."

"Mit der Einrichtung des Custom Shops hat IK Multimedia das Angebot an emulierten Hardware-Modellen mit Originalnamen und wunderschöner, sehr detailgetreuer Grafik konsequent ausgebaut. Nach der immer noch konkurrenzlosen und von uns als Fender-Fans heiß und innig geliebten Sammlung AmpliTube Fender, deren Module selbstverständlich separat erwerbbar sind, bereichern illustre Namen wie die britische Verstärkerlegende Orange mit einem fetten Gesamtpaket, Ampeg, Gallien-Krueger, Carvin, Soldano und Dr. Z Amplification das Warenangebot. Dabei sind das nur Beispiele. Es gibt noch weitaus mehr zu entdecken. Wir können wirklich nur jedem Saitenartisten empfehlen, sich in aller Ruhe über das aktuelle Angebot, das selbstverständlich stetig weiter ausgebaut wird, zu informieren. Es lohnt sich wirklich."

"Die IK Multimedia-Emulation klingt spitze und dürfte kaum zu toppen sein. Der Soldano SL 100 kostet erschwingliche 30 Credits – eine lohnende Investition."

"Der Vorverstärker des kleinen Interfaces ist in der Tat sehr rauscharm und verfälscht den Klang des Mikrofons nicht. Es lohnt sich also durchaus, auch Spitzenmikrofone zusammen mit dem Winz-Interface einzusetzen."

"Deswegen macht uns das iRig PRO richtig Spaß beim Aufnehmen. Dieser Spaß vergrößert sich noch bei der Nachbearbeitung, namentlich beim Reampen unserer E-Gitarrenspur mit AmpliTube."

"Klein im Wuchs, dafür aber bestens ausgestattet und gemessen am günstigen Preis sehr leistungsfähig: Das iRig PRO ist eine lohnende Anschaffung für mobile IK Multimedia-Fans, die mit iOS-Geräten und Macs arbeiten.
"

- Sehr gute Ausstattung: Audio-/MIDI-Interface für Line-Kondensator-Mikrofon-Signale
- Geeignet für iPhone/iPad/Mac
- Üppiges Software-Bundle
- Überzeugender Klang
- Besonders klein
Learn more about
iRig PRO
Learn more about
AmpliTube Custom Shop