New Wampler Pedals added to AmpliTube Custom Shop
[h=4]Pinnacle Deluxe and Nirvana Chorus stomps from Wampler Pedals now available![/h]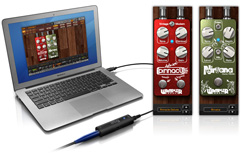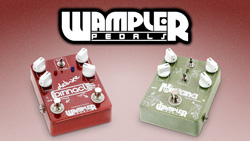 With those summer gigs right around the corner, IK Multimedia is proud to announce the release all-new models of the
Pinnacle Deluxe
and
Nirvana Chorus
stomps from Wampler Pedals. Developed in joint cooperation with
boutique
stompbox
effects
manufacturer Wampler Pedals, both of these top models give guitar players new high-end power tools to sculpt their tones with unique
precision
and character. Download them now in the
AmpliTube Custom Shop
for Mac/PC today!

Wampler Pinnacle Deluxe
This pedal model is designed to reproduce the sound of late 70's to early 80's plexi-style amplifiers pushed to the limit. This
classic
tone, also known as Brown Sound was the trademark of several guitar-god innovators of that era. The Pinnacle Deluxe model offers the flexibility of
a dual mode
operation, where it can be used as
a standard
overdrive, or pushed further with the Boost switch, where an additional gain stage is added for increased distortion. Tone and Contour
control
s allow players to find the perfect balance of high end and midrange, so that the pedal can be tailored to rhythm or lead sounds with an intuitive, easy to use design.

Wampler Nirvana Chorus
The Wampler Nirvana Chorus is one of the most versatile chorus models in the Custom Shop. It delivers both flexible, shimmering, lush, rich chorus effects and a huge range of vibrato all from one stomp
effects
pedal. It features a level control capable of boosting the effect signal above unity, a tone control for fine tuning and sculpting the high-end content tone of the effect, depth and rate controls, plus a tri-level effect intensity toggle and vibrato/chorus mode toggle.

Pricing & Availability
To access the new gear models in
the AmpliTube
Custom Shop, users need to download AmpliTube version 3.13, which is also a free update for current AmpliTube owners, and is available for Mac/PC. The new models are available now and can be purchased with Custom Shop Gear Credits.
Wampler Pinnacle Deluxe
and
Wampler Nirvana Chorus
are available for 20 credits each. Gear Credit Packs start as low as $19.99/€15.99 (for 20 credits) and go up to $749.99/€639.99* (for 1,500 credits).
To learn more or purchase please visit the
AmpliTube Custom Shop
To listen to
audio demos
of the new Wampler gear
click here