New T-RackS BOGO Sell-ebration!
[h=4]Buy any T-RackS Processor and get another one free![/h]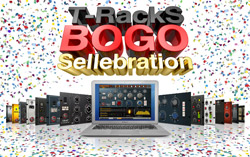 Spring into
T-RackS
Processors savings from now until May 22, 2014. When you buy and register any
T-RackS Processor
, you'll get another T-RackS Processor (equal or lesser value) free! Shop and save from 26 mix and mastering plug-ins. Use them in your favorite sequencer/DAW or as a standalone application.
T-RackS massive
collection
of mixing and mastering audio processors is unmatched in both "true to
the original
" sonic perfection and in choice of selection. We've chosen the "best of the best" available hardware samples on which to base T-RackS modules. Other processors in
T-RackS Custom Shop
include models of
professional
compressors, limiters, console channel strips, clippers, reverbs, de-esser, multi-band processors and a tape echo.
How to qualify for the promotion
1. Purchase any of the qualifying product from the IK Online Store or
Custom
Shop.
2.
Register
your new product.
3.
Access your User Area
and click on the "Promotions" link.
4. Click on the "T-RackS BOGO Sellebration" link and choose and download your free virtual instrument titles.

PROMOTION FAQ
How do I choose and download my free product?
You must register your T-RackS Single between April 22 - May 22, 2014. Once registered, access your User Area and click on the "Promotions" link. Here you will find the instructions on how to choose and download your free product.
Can I receive the newly released EQ 73 or EQ 81 as my free download?
The newly released Master EQ 432, EQ 73 and EQ 81 are not eligible as a free download.
Can I use my Jampoints Reward Discount to purchase products from the IK store?
Yes, IK loyal users are allowed to use their JamPoints when purchasing from the IK Store.
To view the full details, gear, terms, and conditions of this promotions
click here