iRing featured in USA Today
USA Today attends NAMM and checks out IK's latest innovation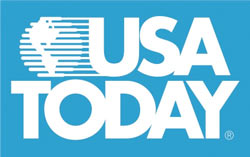 USA Today
made it to this year's NAMM show in Anaheim, CA to see firsthand the latest and greatest
innovations
in music technology from manufacturers around the globe. Reporter Jefferson Graham stops by the IK booth to get a sneak peek at many of the newest IK products, including
iRing
.
iRing is the first motion-tracking controller for iOS music apps and more. iRing is a patent-pending, double-sided ring with dotted markers that allows the user to control
effects
, notes or other music parameters by waving their hands in front of the iOS device's camera.
In this video, Jefferson Graham decides tries out iRing for himself, using it to
control
the action
in a round of
the classic
video game Pong
iRing will cost $24.99/€19.99 (exc. taxes), and will be available in Q1 2014 in three colors (white,
green
and silver) at music and electronics retailers worldwide.
Pre-orders
are now available on the IK Multimedia online store and selected stores. iRing FX/Controller and iRing
Music Maker
apps will be available as free downloads from the App Store.
The iRing technology is available to any app developer through a free developer kit and licensing program that IK has made available to third parties. This allows developers to integrate this innovative motion controller and to enhance their music apps (or any other type of apps such as gaming, health and fitness, utilities and many more).
Third party developers are invited to contact IK by writing to
sdk@ikmultimedia.com
for further information.
To read the full story click
here
To preorder iRing click
here
To learn more about iRing click
here