iRig Voice now shipping
[h=4]The colorful vocal microphone for the singer in you[/h]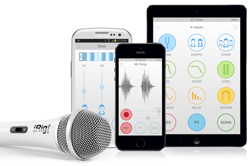 IK is pleased to announce the new
iRig Voice
microphone line — the fun, easy-to-use and affordable vocal microphone for iPhone, iPad, iPod touch and Android devices. iRig Voice comes with the new free
EZ Voice app
, which lets you quickly and easily sing along and record with any song on your iOS or Android mobile device's music library.
iRig Voice is designed specifically for quality voice recording and is the perfect companion to the most popular singing and music apps like IK's EZ Voice and partner apps like Smule's Sing! Karaoke and AutoRap, plus The Voice: On Stage by StarMaker, musiXmatch, Karaoke Anywhere by JoltSoft and many more.
Fun and Easy to Use for Everyone
Simply connect the microphone, connect headphones or speakers, launch its free EZ Voice companion app (compatible with iPhone, iPad, iPod touch and Android) and you are ready to start singing for hours of fun. You don't need any audio skills to use EZ Voice, it's the simple-to-use sing along app that lets you quickly and easily import your favorite songs from your music library, cancel the original vocals and add professional quality effects like reverb, chorus, pitch correction and more. EZ Voice lets you record your performances and share them with the world via email or SoundCloud. Together with EZ Voice, iRig Voice turns any mobile device into a fun, great sounding vocal and recording suite.
The Color of Sound
iRig Voice comes in 5 eye-catching colors that look great on stage: Green, Blue, Yellow, Pink and White match the colors of the iPhone 5C adding a bright new level of style to any performance.

The Microphone for Everyone
With a street price comparable to a phone case, iRig Voice is so affordable that anyone can get started down the path to vocal stardom. iRig Voice is also perfect for capturing broadcast interviews in the field, conference calls, school projects, parties — it's an ideal solution anytime vocals need to be captured.
Pricing and Availability
iRig Voice costs only $39.99/€29.99 (excluding tax) and is now shipping from music and electronics retailers worldwide and from the IK Multimedia online store. EZ Voice is a free app available for download from the App StoreSM and from the Google Play™ store.
To buy iRig Voice
click here
To learn more about iRig Voice
click here