Introducing iKlip Xpand and iKlip Xpand Mini
Universal mic stand support for tablet and smartphone now available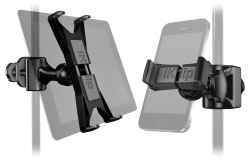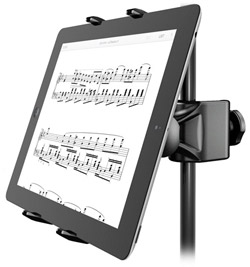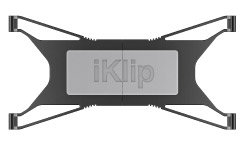 iKlip Xpand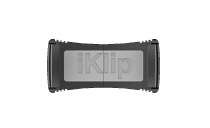 iKlip Xpand Mini
We've taken the hugely successful iKlip Microphone Stand Adapter and made it even better by making it compatible with a number of smartphones and tablets - including iPhone, iPod touch, iPad, iPad MINI, iPad Air, and Android or other devices. Introducing the iKlip Xpand Series:
iKlip® Xpand
and
iKlip® Xpand Mini
, the next generation of microphone stand mounts for your ever-evolving mobile devices.
iKlip Xpand and iKlip Xpand Mini both feature an expandable spring-loaded bracket design with rubberized gripping points that can be extended to safely and securely hold a wide range of smartphones and tablets to a standard microphone stand pole or horizontal boom.
Compatible Devices
iKlip Xpand holds any iPad, including iPad Air and iPad mini - as well as Android or any other tablets with a screen size from 7" to 12.1".
iKlip Xpand Mini holds any iPhone, Android or other smartphone - including large format "phablets" - with a screen size from 3.5" to 6". The expandable clamps allow for the use of devices with carrying cases still attached.
Both feature a rubberized "soft touch" gripping surface that ensures a firm hold that doesn't scratch or mar your device's surface. They also feature a ball joint system that allows for precise positioning at any rotation or angle.
One Support for Countless of Apps
iKlip Xpand and iKlip Xpand Mini make it easy for musicians, performers, public speakers and presenters to bring their favorite mobile apps on stage like IK's popular range of apps: Guitarists can use powerful real-time effects processors, like
AmpliTube
®. Keyboard players can play with a whole galaxy of virtual instruments and synthesizers, like
SampleTank
®,
iGrand Piano
™ and
iLectric Piano
™. DJs can enjoy mixing and other groove making apps, like
DJ Rig
™ and
GrooveMaker
®. Vocalists can perform live with effects using
VocaLive
or
EZ Voice
. Orators and public speakers can now use their device for notes, entire speeches and presentation control right from the microphone stand.
iKlip Stage for iPad: The page turning app for your new iKlip Xpand
iKlip Xpand is ready to go straight out of the box thanks to the new, coming soon,
iKlip® Stage
free companion app for iPad, a streamlined music scores, tabs and lyrics file management and page turning app with intuitive controls that make it easy to import, organize and perform.
Plus iKlip Stage will also work with
iRig BlueBoard
and
iRing
for a full touchless control experience.
Pricing & Availability
iKlip Xpand and iKlip Xpand Mini are available now from music and electronics retailers worldwide and from the IK Online store for $49.99/€39.99 and $39.99/€29.99 (excl. taxes) respectively.
Own yours today
.
More Resources: