Introducing iKlip Stage for iPad
[h=4]Free app for score management and page turning made easy[/h]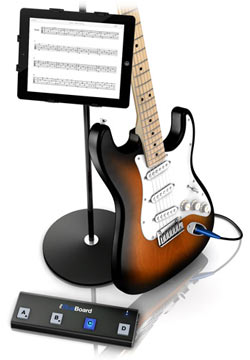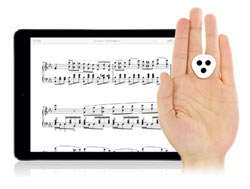 With
iKlip Stage
, you'll have the confidence to play at your best. Its streamlined interface is easy to use and handles all the effort of organization for you. Just import your favorite scores, assemble them into setlists and let iKlip Stage do the rest — just select your score for full-screen view and swipe left or right to turn the page. Now you can spend more time doing what you love: performing music!

Effortless Organization

Organization is at the heart of iKlip Stage, which is why its interface is so simple. You'll enjoy wide-ranging support for a variety of popular formats. Import scores, lyrics, tabs and more in the FILE page where they're displayed as easy to view thumbnail previews. Then use the LIST page to drag and organize into setlists. It's the simple, streamlined and powerful way to manage all your scores.

Superior Performance

With iKlip Stage you'll always see the full picture. When you're ready to perform, just double-tap the score you'd like to use and you'll see it displayed in full-screen mode. While you're performing, all you need to do is swipe left or right to turn the page. You can also use it in your favorite viewing position: just rotate your iPad to switch between landscape and portrait mode on the fly.

Beyond the screen

Sometimes touch isn't enough. Though iKlip Stage is easy to use with your touch screen, it can also be controlled in more advanced ways: Use IK's
iRig BlueBoard
to turn pages with your feet from the floor, or try
iRing
for touchless gestural control by waving your hand left or right in front of your iPad's camera. No matter how you choose to use it, iKlip Stage lets you take your live performance to the next level.

Features

- Quickly import music scores, lyrics, tabs and more
- Fast and easy creation, organization and selection of setlists
- Supports popular formats: PDF, TXT, PNG, JPG, TIFF, RTF and BMP
- Import files via file sharing
- Intuitive interface with thumbnail previews of scores
- Designed to work with all iKlip products range (iKlip 2, iKlip Stand, iKlip Xpand)
- Supports touchless control through iRig BlueBoard and iRing
- Portrait/Landscape modes available
- Free (30 files and 2 setlists included — register iKlip serial number to increase capacity to 60 files and 4 setlists — unlimited scores and setlists available via in-app purchase)
To learn more about iKlip Stage and compatible accessories,
click here
To download iKlip Stage for free from iTunes,
click here