[h=4]Tune your guitar and play along with a personal sounding drummer inside AmpliTube for a great price[/h]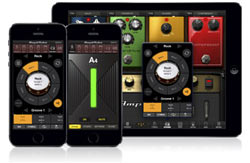 IK is proud to offer
AmpliTube for iPhone
and
iPad
users a 50% discount on UltraTuner and Loop Drummer packs through in app purchase during our Summer Strummer Promotion. From now until August 28th, 2014 you can get
UltraTuner
(standalone or through AmpliTube in-app purchase) for only $1.99/€1.79 (normally $4.99/€4.49). Individual Loop Drummer style packs including
Rock, Blues, Country, Pop, Funk, Punk, Metal, and Electro
are available for only $1.99/€1.79 each (normally $3.99/€3.59). The
All Styles Drum Pack
is also discounted to only $6.99/€5.99 (normally $14.99/€13.99) during this special promotion.
UltraTuner
features one of the fastest, smoothest and most responsive tuning engines of all tuner apps, and is precise to well below a hundredth of a cent. Its precision and speed provides players and engineers with a pocket-sized professional instrument tuner that is always at hand.
The
Loop Drummer Style Packs
contain 64 loops each, and give you eight different song-construction kits based around a core drumbeat. For each you get all the song parts you'll need to put an awesome, and full-length drum track together.
Take advantage of this limited time offer and get 50% off UltraTuner and the Loop Drummer style packs inside
AmpliTube for iPhone
and
iPad
. Offer expires August 28th, 2014.
IK's UltraTuner & Loop Drummer are available in the following apps:
AmpliTube for iPhone
AmpliTube for iPad
UltraTuner is also available as a standalone app:
UltraTuner
For more information on UltraTuner please visit:
IK Multimedia | UltraTuner
For more information on Loop Drummer please visit:
IK Multimedia | Loop Drummer - Drum module inside AmpliTube