In-App Special: 25% Off All Loop Drummer Packs
[h=4]Get a personal session drummer inside AmpliTube for a great price[/h]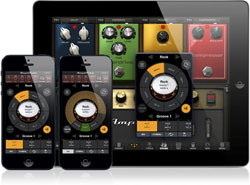 IK is proud to offer
AmpliTube
for
iPhone
and iPad users a 25% discount on
Loop Drummer
packs through in app purchase. From now until March 27th, 2014 you can get any Loop Drummer style pack including
Rock, Blues, Country, Pop, Funk, Punk, Metal, and Electro
for only $2.99/€2.69 (normally $3.99/€3.59). You can also go for it all and get the All Styles Drum Pack for only $10.99/€9.99 (normally $14.99/€13.99).

The
Loop Drummer Style Packs
contain 64 loops each, and give you eight different song-construction kits based around a core drumbeat. For each you get all the song parts you'll need to put an awesome, and full-length drum track together.
Take advantage of this limited time offer and get 25% off on the Loop Drummer style packs inside
AmpliTube
for iPhone and iPad.
Offer expires March 27[SUP]th[/SUP], 2014.
IK's Loop Drummer is available in the following apps:
AmpliTube for iPhone
AmpliTube for iPad
For more information on AmpliTube please visit:
Products - AmpliTube iOS
For more information on Loop Drummer please visit:
IK Multimedia | Loop Drummer - Drum module inside AmpliTube