Cult of Mac on iRing: "The potential here is stunning"
[h=4]"This is a truly innovative new product"[/h]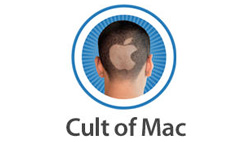 Cult of Mac is a daily news website that follows everything Apple. The staff is an international team of Apple experts that provide timely news, insightful analysis, helpful how-tos and honest reviews. Reviewer Rob LeFebvre got a chance to try out the
iRing
with companion apps
Music Maker
and
FX/Controller
. Here are a few of his initial impressions:
"Once I relaxed into it… the music started to flow and my hands began to dance; this is one cool iOS music-making peripheral."

"The iRing is made for making music, but the potential here is stunning: Imagine a video game controlled with your hands, a webpage that scrolls at a speed you define with your fingers, or an e-book that turns pages with a swipe through the air. This is a truly innovative new product."

"The iRings work flawlessly to control the sounds within Music Maker, opening up a whole new way of performing songs and making music with your iPad or iPhone."

"Building beats in real time and then switching things up with a twist of the iRing is just sublime when you hit it just right."
To read the full review
click here
To buy iRing
click here
To watch the iRing video playlist
click here