Apple Spotlights IK Multimedia for European Developer Innovation
[h=4]Article from Apple showcases the development of jobs from iOS creation[/h]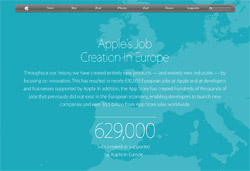 Check out the quotes from the feature story with IK Multimedia's contribution to the European App Economy from Apple.com:
"
With over 1.2 million apps and more than 75 billion downloads, the App Store has created a whole new field of work: design and app development for iOS…Since we started the revolution of the app, in 2008, in Europe were created about 500,000 jobs directly attributable to the App Store.
" ~ Apple.com
"
The arrival of the iPhone has forever transformed the vision and the future of our company, projecting it into the mobile market. The iOS platform had the potential to revolutionize the creation of music, so we were among the first developers to adopt implementing new app and new accessories that allow musicians and fans to make music anywhere, anytime. We are proud to have immediately sensed this potential, and to now be a driving force behind musical revolution made possible by the iPhone and iPad.
" ~ Enrico Iori, CEO and owner, IK Multimedia

Learn more
about how IK Multimedia has contributed as a
leading developer
to the App Store explosion of jobs on Apple's website.

Learn more
about IK Multimedia's 78+ iOS music creation and broadcasting applications that are available, click here.