AmpliTube in-App Special Sale!
[h=4]Save 40% on our most popular models available for in-app purchase in AmpliTube apps (full, FREE or LE versions).[/h]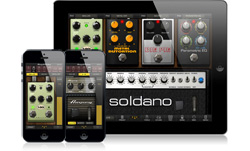 IK Multimedia is proud to bring you this special "Gear of the Week" promotion by offering AmpliTube users a 40% discount on select amps and pedals through in-app purchase! From May 29th, 2014 to June 12th, 2014 you can get the Soldano SLO-100 amp for only $3.99/ €3.59(normally $6.99/ €5.99), Ampeg B-15R amp for only $2.99/ €2.69(normally $4.99/ €4.49), and the T-Rex Moller and Metal Distortion pedals for only $1.99/ €1.79(normally $2.99/ €2.69. You can also get the Complete Fender, Complete Slash and Complete Jimi Hendrix bundles for only $8.99/$7.99(normally $14.99/$13.99)
AmpliTube users should take advantage of this "Gear of the Week Special", and pump up their arsenal of amps and effects for their iRig!
If you don't already own
AmpliTube for iPhone
or
iPad
you can get them on the iTunes App Store from the links below:
AmpliTube for iPhone
AmpliTube for iPad
Learn more about IK Multimedia's
AmpliTube for iPhone
/ iPad and check out our other
iOS apps & accessories.